Instructional Excellence Academy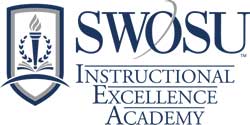 Great Teaching is at the Heart of Student Success
The Center for Excellence in Teaching and Learning is pleased to announce a targeted initiative aimed at providing support for faculty to learn about and apply proven teaching techniques. Selected faculty members will be chosen from an applicant pool to participate in SWOSU Instructional Excellence Academy. This academy is for the improvement/enhancement of the instructional role of SWOSU faculty. Knowledgeable Teaching and Learning Coordinators and future Instructional Excellence Fellows will facilitate the on-line academy and will structure face-to-face sessions that provide wrap-around support, an essential element of this program.
Mission
To prepare and challenge university faculty to take an active role in continually improving the quality of their instruction in order to help students succeed.
Purpose
To learn the essentials of great college instruction including:
Designing an effective course and class

Establishing a productive learning environment

Using active learning techniques

Promoting higher order thinking

Assessing to promote learning and informed instruction
Objectives and/or outcomes:
Faculty feel more confident in their teaching
Faculty learn and interact with other faculty around teaching/learning
Faculty learn how to improve course delivery
Faculty learn to use new teaching resources
Faculty learn to use accommodations, accessibility, and universal design
Student learning and success will improve
Commitment
Complete a total of seven modules over the course of an academic year:
Class 1: Spring / Fall
Class 2: Fall / Spring
Attend Course Experience Demonstration
Apply to be considered for participation
Semester 1: Complete four modules and attend

three F2F meetings.
Semester 2: Complete three modules and attend

three F2F meetings.
Note: Each module takes three hours or less to complete.
Course Structure
Modules will open the first day of the month.
Modules assignments will be due the last day of the month.
Assignment and Personal Reflection documents will be submitted
Faculty will develop an ePortfolio throughout the course
Every assignment has to receive three points or higher to be considered complete. Faculty can resubmit an unlimited number of times to receive a higher point value.
Participants have 12 months after the Academy begins to fully complete the Academy.
Participants are required to attend the 5C's and R Luncheon Series
Faculty that are not part of the Academy will need to re-attend the 5Cs/R Luncheon Series if selected for the Academy in the future.
Who Is Eligible?
SWOSU Instructional Excellence Academy is open to all full-time faculty who wish to enhance the quality of instruction in their undergraduate or graduate courses, whether traditional, blended or online.
The selection committee is especially interested in the following applicants:
Faculty who are actively teaching during the course of the Academy.
Faculty who teach general education courses.
Faculty who struggle with teaching and want to improve.
Faculty who are looking to fine tune or update their teaching practices.
Faculty who will apply the methods learned over the course of the Academy to multiple courses.
Faculty who teach!
If an applicant doesn't fall into one of the above bulleted categories, they are still encouraged to apply and will be given full consideration.
Selection Process
Applications received from faculty who teach 100 percent traditional (F2F) courses will be reviewed by the Faculty Development Committee. The CETL Committee will review applications received from faculty who teach online, blended and/or webinar courses as well as those faculty who teach both traditional and distance courses. A rubric will be used to score each application.
A total of 10 faculty will be selected per class (Spring/Fall or Fall/Spring). If faculty are not selected when they apply for the Academy, they will have the opportunity and are encouraged to reapply in the future.
Stipends
Faculty receive $500 PD stipend mid-term (distributed at the completion of Module 4)

Faculty receive $500 PD stipend at end of training (distributed at the completion of the Academy)
Faculty receive $400 professional

nail development travel stipend (distributed when the Academy is completed following University travel guidelines)
Timeline
Class I (Spring/Fall)
Date
Time
Information
October
Broad promotion and online application available
First Friday of November
12 p.m.
Course Launch (Course experience demonstration of the course for interested faculty and administrators).
By the third Monday of November
5 p.m.
Application Deadline
By the last Friday of November
Faculty notified of acceptance into program
First day of December
Begin Introduction module of the spring sequence
May

–

July
Catch up on modules, if behind
Third Monday of August
Begin Fall module sequence
By the end of November
Course Ends
December
Catch up on modules, if behind

– Refer to Course Structure #6

January
Upon completion of the SWOSU Instructional Excellence Academy, faculty member receives recognition as a Instructional Excellence Fellow
Class II (Fall/Spring)
Date
Time
Information
March
Broad promotion and online application available
First Friday of April
12 p.m.
Course Launch (Course experience demonstration of the course for interested faculty and administrators).
By the third Friday of April
5 p.m.
Application Deadline
By the last Friday of April
Faculty notified of acceptance into program
First day of August
Begin Introduction module of the Fall Sequence
December
Catch up on modules, if behind
First day of January
Begin spring module sequence
Last day of April
Course Ends
May

–

July

Catch up on modules, if behind

– Refer to Course Structure #6

July
Upon completion of the SWOSU Instructional Excellence Academy, faculty member receives recognition as an Instructional Excellence Fellow