Pass/No Pass
On April 1, we announced that students will be given an option to choose pass/no-pass grading for Spring 2020 courses. The Pass/No-Pass Request Form is now published and available for submission. By submitting this form, you are electing to change your regularly graded course(s) to a Pass/No-Pass grade. Pass/No-Pass grades will be changed to an "S" for passing grades and a "U" for failing grades. Neither an "S" nor "U" will affect GPA.
For undergraduate courses, A – D grades are considered passing. For graduate courses, A – C grades are considered passing. You may request to change courses to Pass/No-Pass on a course-by-course basis. You should consult with you advisor before making the decision to submit this form, as changing a regular grade to a pass/no-pass grade may affect applications to graduate or professional programs. This option is only available for the Spring 2020 semester, and is not available for Pharmacy courses. Submission instructions are outlined below.
If you have any questions or need further assistance, please contact the Registrar's Office at 580-774-3777 or by email at registrar@swosu.edu. Contact ITS at 580-774-7070 or by email at helpdesk@swosu.edu if you need assistance logging in to Single Sign On.
Steps to submit the Pass/No-Pass Request Form:
2. CLICK ON ETRIEVE

3. CLICK ON FORMS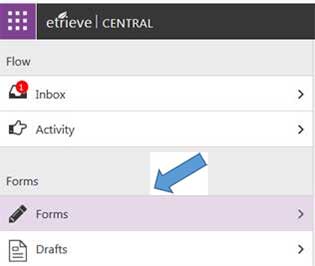 4. CLICK ON PASS/NO-PASS REQUEST FORM UNDER REGISTRAR

5. ENTER REQUIRED INFORMATION FOR THE COURSE(S) YOU WITH TO CHANGE TO PASS/NO-PASS

6. CLICK THE CHECK BOX TO VERIFY THAT YOU HAVE PROVIDED ALL THE CORRECT INFORMATION
7. CLICK SUBMIT AT THE BOTTOM OF THE FORM

After the request form has been processed, students will receive an email from etrieve@swosu.edu with the subject "Etrieve Flow Notification" that states, "The workflow package 'Pass/No-Pass Request Form: 0123456 (Student ID), (First Name) (Last Name). ASTRO 1904 1234. . . . . . . .' has been submitted by (GoSWOSU user name) and is available for your review." The underlined information includes all of the course information submitted on the request form. Once you receive this notification, you can access your grades and transcript through Self Service to see the processed changes.