The SWOSU Academic Wordmark
The SWOSU Academic wordmark is the primary standardized graphic representation of the university's name. It is the preferred mark to be used in communication and correspondence, both externally and internally, by academic and administrative departments. While the academic wordmarks and logos may be sized appropriately for the specific use, the proportions of their individual elements cannot be altered. They must be displayed in designated official colors. All marks must be reproduced from official artwork available through the Office of Public Relations & Marketing.
The SWOSU Academic wordmarks are registered and trademarked properties. Any alteration, modification, or unapproved usage of these wordmarks and logos is strictly prohibited. Please contact the Office of Public Relations & Marketing for usage and approval.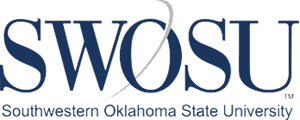 *Full-color (Bulldog Blue and Light Gray "swoosh") version preferred for all applications.
History

The official academic wordmark created in 2002 embodies the modern culture of the University. This is emphasized in the name revision from 'Southwestern' and its associated 'SW', to 'SWOSU' (SWAH-SU). 'SWOSU' reflects the focus to embrace the identifying language and jargon of our primary target audience — current and future students.
Color Configurations
| Primary Color Configuration | Inverted Color Configuration |
| --- | --- |
| | |
Single Color Configurations
| Bulldog Blue | Bulldog Gray | Bulldog White |
| --- | --- | --- |
| | | |
Minimum Clear Space Requirements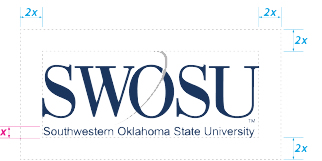 The SWOSU Academic wordmark has been given a designated safe zone around all sides to visually separate it distinctly from any other graphic elements. This spacing is uniform on all sides of the logo. The logo must not be placed close to any distracting design elements or placed on top of any visually confusing background. The only exception is in the usage of official administrative and academic department wordmark configurations or secondary casual administrative and academic marks. This requirement for minimum clear space is also applicable to dominant logotype only applications.
Dominant Logotype Only Applications
When suitable, some circumstances or applications allow for the SWOSU Academic wordmark to be used independent of the secondary logotype identifier. Generally these instances are restricted to embroidery, website placement, or other products and merchandising where the usage of the secondary logotype identifier becomes illegible or difficult to read. Other times include internal only applications when the full title of the University is already understood and established, such as in specific administrative and academic department casual marks. This option should never be used to replace the primary/preferred SWOSU Academic wordmark and any usage requires approval from the Office of Public Relations & Marketing.
| Dominant Logotype Only | Academic Casual Mark |
| --- | --- |
| | |
For more information on logos, trademarks, usage and licensing with Southwestern Oklahoma State University, please contact the Office of Public Relations and Marketing or SWOSU Graphic Design.
Office of Public Relations and Marketing
p: 580.774.3063
f: 580.774.7117
e: identity@swosu.edu