A Message from the President
With Southwestern Oklahoma State University forging new educational frontiers in our second century, it is crucial we communicate a clear and concise image of our University. The implementation of a Brand Standards Manual with policies and procedures for logo and symbol usage is important in moving SWOSU forward as a modern, thriving university.
The manual comes with our branding campaign, "The focus is you." After an external and internal research study, SWOSU's key benefits and the aspirations of high school students were combined to present SWOSU to a new generation of students from Western Oklahoma and the Oklahoma City metropolitan area, especially.
The result of the study and the creative direction is a focus on the student as an individual. This also shows how SWOSU's faculty and community help the student achieve his/her personal best and prepare for the future; something unique to smaller universities and SWOSU in particular.
One of the changes you "hear" is the term SWOSU, pronounced "SWAH – SU," as our moniker. As opposed to "Southwestern," SWOSU is more modern sounding, interesting and easy to remember. It also takes the geographical reference from the name. Being close to Oklahoma City is important in attracting more students from that area.
SWOSU has an academic signature logo to be used in all promotion of the university. Using "SWOSU" accentuates our reference to our university. A "swoosh" icon is added around the "O" to symbolize our constant state of motion. Southwestern Oklahoma State University is positioned below the main icon. Corporate identity pieces have been created using our new logo.
Over the last hundred years, many bulldogs have been used as our symbol. As you will see in our "Athletic/Spirit" logo, we created one dog and logo for usage in the promotion of student activities and athletic/spirit programs. This is a trademarked logo that cannot be used without the written consent of SWOSU.
Our goal is to get more students to make on-campus visits to build enrollment.
As a member of the University family, you share in the responsibility to ensure compliance with the Brand Standards Manual. We all must embrace them with pride as we continue to build public awareness of what SWOSU has to offer to students and our state.
Thank you for your assistance and support in protecting the SWOSU brand.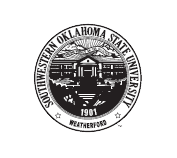 Dr. Randy Beutler, President
Southwestern Oklahoma State University
---
For more information on logos, trademarks, usage and licensing with Southwestern Oklahoma State University, please contact the Office of Public Relations and Marketing or SWOSU Graphic Design.
Office of Public Relations and Marketing
p: 580.774.3063
f: 580.774.7117
e: identity@swosu.edu