Dawg Dollars
Welcome to Dawg Dollars, your source for money management tips and information to keep you out of the financial dog house. Whether you're attending class to become a teacher or earning a degree in finance, you can build financial success starting here at SWOSU.
Use the menu at the right to explore a variety of areas related to your financial well-being. With a little work and dedication, you can become a successful manager of your money no bones about it!
---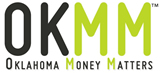 This information presented in cooperation with Oklahoma Money Matters, the financial education outreach initiative of the Oklahoma College Assistance Program. For more information about OKMM, visit www.oklahomamoneymatters.org or call 1-800-970-OKMM.
---