Keep Your Paws Off: How to Avoid Identity Theft
"Identity theft occurs when your personal information is stolen and used
without your knowledge to commit fraud or other crimes."
Did you know that one-third of identity theft victims are under the age of 30, and the majority are college students?
As a student, you can take special precautions to make sure your personal information doesn't fall into the hands of would-be thieves. If you live in a community setting, like a dorm, fraternity or sorority, keep your personal papers, such as your birth certificate, Social Security card, transcripts, financial aid paperwork or other documents with personal information, in a fire-proof lock box. These are relatively inexpensive to purchase and available from a variety of stores.
Instead of tossing documents that include sensitive information in your wastebasket, use a cross-cut shredder to destroy them. It's also a good idea to keep your passwords secret. If you must write them down to remember them, store them in the lock box with your other sensitive items.
Here are a few other tips to help you protect your personal information:
Don't carry your Social Security card in your wallet or have your number printed on checks.
Don't give out personal information over the phone unless you initiated the contact.
Don't use obvious passwords, like your name, birth date or mother's maiden name.
Use a mix of letters, numbers, and special characters to create passwords that are harder to guess.
Be on the lookout for bills that don't arrive as usual.
Keep an eye out for charges to your account that you didn't make.
Monitor your credit history. Visit www.annualcreditreport.com to get one free copy of your credit report each year from the three major credit reporting bureaus.
---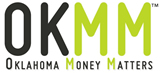 This information presented in cooperation with Oklahoma Money Matters, the financial education outreach initiative of the Oklahoma College Assistance Program. For more information about OKMM, visit www.oklahomamoneymatters.org or call 1-800-970-OKMM.
---