How to Log In to Upswing
FREE 24/7 Online Paper Review,
Academic Help, and Tutoring for SWOSU Students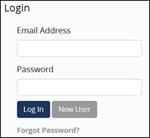 1 - Log in via Single Sign On.

2 - If you already have an Upswing account, log in. Otherwise, click on New User and follow the log in instructions.

3 - Select Meet with a Tutor on your homepage, or click on Tutoring on the left-hand side blue panel.
4 - Use the search bar at the top to search for a subject, course, or name of a coach.

5 Select a coach from the search results to see their profile, qualifications, and tutoring schedule.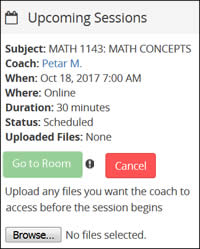 6 Now you can message the coach, schedule a session, or have an immediate session (when available).
7
-
Once your session is about to start, click
Go to Room
in your upcoming session section on your profile.
8
-
When you enter the
Virtual Learning Room
, you'll be able to start your tutoring session with your coach.
If you have any questions or are having trouble using Upswing, feel free to reach out to Steve Ray (steve.ray@swosu.edu or 580.774.3147) or e-mail Upswing directly at speak@upswing.io.
SWOSU on-campus departmental tutoring hours are available by going to http://www.swosu.edu clicking on Current Students and clicking on Tutoring.
SWOSU on-campus Writing Center hours are available by going to the Writing Center page. The Writing Center is located in the Al Harris Library Basement-B3. Students working on papers, speeches, or presentations may stop by and see a Writing Center consultant.