Newman Civic Fellow
Campus Compact has announced the 2020-2021 cohort of Newman Civic Fellows. The Newman Civic Fellowship is a one-year fellowship for community-committed college students from Campus Compact member institutions. The fellowship honors the late Frank Newman, one of Campus Compact's founders and a tireless advocate for civic engagement in higher education. In the spirit of Dr. Newman's leadership, Campus Compact member presidents and chancellors are annually invited to nominate one community-committed student from their institution for the fellowship. These nominees are individuals who have demonstrated an investment in finding solutions for challenges facing communities throughout the country and abroad.
Hernandez Honored as SWOSU's 2019-2020 Newman Civic Fellow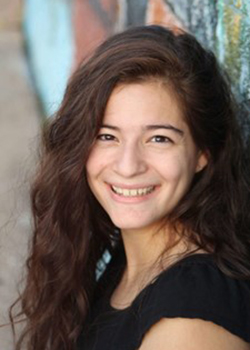 Natanya Hernandez is a 2019 graduate in Business Administration who is now pursuing a Master of Business Administration degree at Southwestern Oklahoma State University. Ms. Hernandez has been very active at SWOSU in many campus and community-based projects. She is also a member of the SWOSU President's Leadership Class where she has demonstrated exceptional leadership ability. Natanya has been committed to not only her academic pursuits, but to volunteer and support organizations as well. She has participated in volunteer trips as both an aid and translator working with homeless shelters, food pantries, and rehabilitation centers in communities throughout Oklahoma and around the world. Natanya is not only a committed student but also serves SWOSU as a graduate assistant for our Multicultural Student Affairs Office. In this role she helps to develop programs on campus for multiculturalism and diversity. Her leadership role and ability to converse in several languages has made Ms. Hernandez one of our outstanding students on campus. Natanya's campus mentor is Dean of Students, Joshua Engle.