Featured Engagement Participant
Campus Compact has announced the 2019-2020 cohort of Newman Civic Fellows. The Newman Civic Fellowship is a one-year fellowship for community-committed college students from Campus Compact member institutions. The fellowship honors the late Frank Newman, one of Campus Compact's founders and a tireless advocate for civic engagement in higher education. In the spirit of Dr. Newman's leadership, Campus Compact member presidents and chancellors are annually invited to nominate one community-committed student from their institution for the fellowship. These nominees are individuals who have demonstrated an investment in finding solutions for challenges facing communities throughout the country and abroad.
Ahuna Honored as SWOSU's 2019-2020 Newman Civic Fellow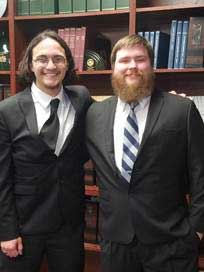 Kamuela Ahuna has been active at SWOSU in many campus and community-based projects. Coming from a small Oklahoma high school, Kam is committed to providing a pathway to STEM fields for other rural students. To that end, he is actively involved in the SWOSU Computer Club and a computer science camp for area high school students. As a mentor and role model to fellow students, Ahuna provides information on accessibility to higher education and to STEM fields of study. He is a volunteer at the First Tech Challenge Robotics competition and represents the university as a member of the SWOSU Marching Band. As a member of the President's Leadership Class, Kam is active in many civic engagement events, including fighting childhood hunger through the Backpack for Kids program at a local elementary school. Kam is pictured here with his university mentor, Hayden Harrington.