Message from the Student Government President
Dear Fellow Bulldog,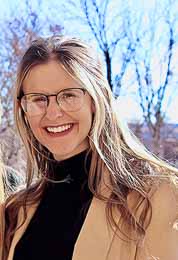 Welcome to Southwestern Oklahoma State University and the beginning of what could potentially be some of the best years of your life! If you are stressed out about waking up in time for class, which organizations you will join, the friends you will make, or communal bathrooms, do not worry; you are not alone! No one has it figured out just yet. This is a brand-new adventure for every person stepping on campus for the first time. I am certainly not saying that every day will be perfect, but I am saying that this is the place you will learn, grow, and make life-long friendships.
My best advice to incoming freshmen is as follows: Be fearless! Put yourself out there! Get involved on campus! If you choose to sit in your dorm and binge Netflix for 6 hours every day, you will be miserable. If you choose to join organizations and meet new people, you will have the time of your life. Your college experience will be what you make it. Read that again. SWOSU boasts more than 90 student clubs and organizations, which means that we most likely have a group for you. If you are interested in Greek Life, rush in the fall (I'll see you there, ladies!!). If you were a sports fanatic in high school, intramural athletics might be your thing. If you are an outdoor-loving adrenaline junkie, get involved with our Rock-Climbing Club!
At SWOSU, we really do believe The Focus is You. One of the best ways to get your voice out there is by joining Student Government Association (my personal favorite!). SGA gives you the opportunity to get plugged in with other students, speak with administration, write legislation, make campus improvements, and coordinate events like Homecoming and SWOSUPalooza. If you want to be a part of the changes here at SWOSU, SGA is for you. Filing to be a senator will begin soon, so be sure to sign up! Feel free to contact me with any questions at all; I will be more than happy to help.
As you all know, school might look a little different due to some of the accommodations made in order to safely handle COVID-19. Administration, faculty, and staff are doing everything in their power to make sure your schooling is as safe as possible during this time. This situation is completely unprecedented, but it is being handled with the utmost concern. Although this might not be the most fun way to begin your college career, just remember that we are all in this together, and this too shall pass.
College is exciting because it is a chance to completely reinvent yourself. No one knows who you are or what you did in high school, so use it to your advantage. Welcome to a brand-new, level playing field. This is the perfect opportunity to become the person you have always wanted to be. Use it wisely.
I cannot wait to see you all on campus! If you have any questions, concerns, or just need a friend to grab lunch with, feel free to reach out to me. Good luck this year and Go Dawgs!
Natalie Kinder, President
SWOSU Student Government Association
2020-2021