Message from the Student Government President
Fellow Dawg,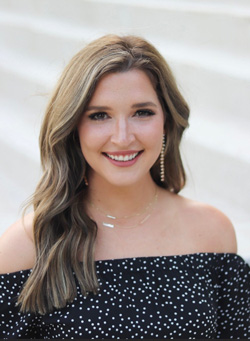 I want to start by saying welcome and congratulations! You are starting what can easily be one of the best times of your life, and on the best campus! The beginning of college can bring forth a lot of emotions, but this is your reminder to take a deep breath and enjoy each day as it comes. Each student on campus has been in your position at some point. Mistakes are made (I missed my first biology lecture because I was eating lunch and got the time wrong), and forgiveness is given. The administration, staff, and your fellow dawgs are more than willing to support you, and we want nothing but the best for you!
If I could give you any advice, it would be to take up space. You are in a brand new place full of new people. Hold your head high! Be brave! Make yourself known! Be willing to make friends with the person next to you, and be willing to answer questions, email, and visit your professors. I know you've heard it a thousand times before, but it's true! When it came time for me to ask for a letter of recommendation this year, I had no doubt I would be able to reach out to my professors here, and I can't tell you how incredibly reassuring and willing they are. Everyone on this campus is here to help you succeed, and not only are you here to further your education, but you're also going to form connections and friendships that will last a lifetime. So don't be afraid to put yourself out there, find your community and take up space!
We are so fortunate this year to start off with what might now be considered the new normal. We are once again able to meet, laugh, grow, and connect with one another. I urge you to take this opportunity while you can. I promise you won't regret it.
One of the best ways to truly get your full college experience is to join an organization. Our campus is teeming with people who have diverse opinions, backgrounds, and interests, and I can guarantee we can find a place for you. From politics to parks and recreation to Greek life, we've got you covered! If you are interested in being an active part of campus life, including campus improvements, special projects, homecoming, and SWOSU Palooza, I urge you to run for a senator position in the Student Government Association. I might be a bit biased, but I can confidently say it is one of the best places to get involved and make a difference on campus.
I want you to know that you will be welcomed here with open arms, figuratively and literally. I will always be more than willing to meet up, answer questions, help you get involved, or just be a friend. If you ever need anything at all, we will do everything we can to get you taken care of. I wish you the best of luck this year and as always, GO DAWGS!
Natalee Karcher
President
Student Government Association