Distance Education Programs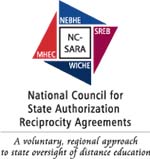 SWOSU's distance education programs are a wonderful way for students to start or complete their degrees while tending to the complexities of life. At SWOSU, several different options exist for students on both what the student might be interested in and how they want to have the degree delivered.
Online degrees are the most common distance delivered method in the United States today. Delivered over the Internet, online learning provides access to the teacher and to classmates wherever the student is able to connect to the Internet. At SWOSU, online course work uses Canvas, a learning management system that will allow you to have course materials delivered to you and where you will connect with faculty and students in ongoing discussions each week. While students can log on to the course work anytime during the day, the general expectation is that students will interact with the class daily.
Webinar (Zoom) is becoming the most common delivery system to Southwestern Oklahoma State University. Webinar delivery is similar to ITV in that students meet at a specific time each week, but differs in that the lectures and class interactions are delivered through the student's laptop or desktop computer. Seeing and hearing the instructor and other students is done computer to computer.
Blended programs combine delivery methods, such as ITV and Online, traditional classroom and Webinar, or traditional classroom and Online together. The traditional sessions would have an on-campus attendance requirement. This may be as simple as a one-time on campus visit or as much as a full course through the program where the student has a residence requirement. It is important for the student to contact the appropriate department to learn more about the requirements in a Blended program.
Southwestern Oklahoma State University offers the following degrees in the following delivery methods:
Online Undergraduate Degrees
Online Graduate Degrees
Webinar/Zoom
Webinar/Zoom
Graduate Degrees
Education
M.Ed. Educational Administration For more information:
Phone: 580.774.3285
E-mail: education@swosu.edu
Blended