Loans
Loans can be good things and bad things.
SWOSU @ Sayre
580.928.5533 x128
sfs@swosu.edu
Sayre Code: E00540
Loans are good because they are a type of financial aid available to help you meet your educational expenses so you can graduate as soon as possible. Federal educational loans are very unique. You can borrow up to set limits with no cosigner, no collateral and no credit check, and the application process is simple and straightforward.
Loans are bad because without realizing it, a student can get thousands, even tens of thousands of dollars in debt before graduating. That can make starting a career hard and far less rewarding. Further, you cannot have these loans canceled if you don't complete your degree or because you're having financial difficulties.
So if you're looking at borrowing, walk lightly. Borrow only what you really need to get through school. Then all that great money you're planning on making years from now will belong to you instead of the bank!
What is a Stafford Student Loan?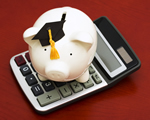 A Stafford Student Loan is a federal aid program. It has a fixed interest rate which is reset every July 1. By law, it cannot exceed 6.8%. This loan is in deferment (repayment not required) as long as the student remains enrolled on at least a half-time basis. Once a student is no longer enrolled on at least a half time basis, the Stafford Loan has a six month grace period before it goes into repayment. The monthly repayment amount depends on the total amount of your combined student loans, the length of the payment period and the repayment option which you choose.
For a subsidized Stafford Loan, the U.S. Department of Education pays the interest while you're enrolled on at least a half-time basis. For an unsubsidized Stafford Loan, the student is responsible for the interest from the time the loan is disbursed until the loan is paid in full. You can pay the interest as you go through school or allow the interest to accrue while you are in school.
The amount of your student loans depends on several variables including your expected family contribution from the FAFSA, other types of financial aid which you receive and your grade level. Depending on eligibility limits, a student might receive a loan which is only subsidized or only unsubsidized or a combination of subsidized and unsubsidized loans.
If you have previous student loans, you may access your individual loan borrowing history at https://nslds.ed.gov/nslds/nslds_SA/.
What is the Application Process?
The process is easy, almost too easy. In order to determine your eligibility for this loan you must first complete a Free Application for Federal Student Aid (FAFSA). Once SWOSU has received your FAFSA data and any other supporting documents which are required, we will notify you of your financial aid award package. You can stop by the Student Financial Services office in the Stafford Building, Room 224 to get a copy of your Award Letter, or call the office to have one mailed to you. A notification will be sent to the student's campus email notifying them when they have been awarded financial aid. Then they can review their aid on Self Service, under Financial Aid.
Students who use all federal aid eligibility in fall and spring may not have remaining funds for summer. Summer is a trailer to our academic year.
After returning your Award Letter, "first time" borrowers must complete an on-line loan application, also known as the Master Promissory Note and Entrance Counseling. You can access the online application at www.studentloans.gov. You will need your Federal Student Aid I.D. to complete the process.
You cannot apply for a student loan until you have completed the FAFSA and received an Award Letter from SWOSU.
When does your money arrive?
You will receive a "Notice of Guarantee and disbursement" which contains estimated disbursement dates and the amount of your loan check. Stafford Loans have an origination fee of 1.059 which is deducted from the loan amount. The origination fee for PLUS Parent Loans is 4.236. Loan funds are credited to your SWOSU account. Money remaining from your loan after your bill is paid is given to you as a refund on your selected refund preference within 14 days.You can setup your refund preference by going to your Self-Service, click on Student Finance, then proceed to the Payment Center. You must be enrolled at least half-time and making satisfactory academic progress to receive your loan funds. All loans are paid in two parts – half at the beginning of the loan period and half at the midpoint of the loan period. This means for a fall/spring loan the first disbursement will be made during the fall semester and the second disbursement will be made for the spring semester.