How Lenders are Selected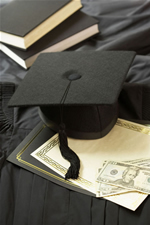 Federal Stafford or PLUS loan borrowers may choose any lender that participates in the Federal Family Education Loan Program. The basic terms of loans are set by the federal government. However many lenders offer special benefits to borrowers. The SWOSU Financial Aid Office encourages you to compare the benefits offered by different lenders so that you can make an informed choice.
In an effort to make the lender selection process easier for students, the Lender Selection Committee has identified a group of lenders for our lender list. You may use a lender from this list or choose any lender who participates in the federal education loan program. If you choose a lender from our lender list you can feel confident that you will receive excellent borrower benefits and customer service.
Borrowers should evaluate their lender to be sure that they are receiving the benefits that are most important to them. Borrowers may access the (SWOSU Lender list) at the financial aid website. At the website borrowers will be directed to the lender where you can evaluate borrower benefits.
The list of lenders is compiled based on submitted RFI's (Requests For Information). RFI's are reviewed by the Lender Selection Committee based on several factors. These factors along with others are carefully considered when lenders are added to the list.
Borrower Benefits – Our preferred lenders offer competitive benefits such as zero origination fees for Stafford loans, interest rate reductions for borrowers who sign up for electronic payments, and principal reductions for borrowers who make a certain number of consecutive on time payments. We review changes in benefits offered by each lender to make sure that our lenders offer the best benefits available to borrowers.
Customer Service – All of our lenders have consistently provided excellent service to our borrowers for many years. We listen carefully to feedback from our students and parents regarding level of service. These lenders have the ability to process and deliver funds in a timely manner.
Variety of Types of Lenders – We know that some students and parents prefer to borrow from one type of lender vs. another. Some borrowers prefer small banks that are local and some large national banks. And some prefer banks with which they already have a relationship.
Borrower Default Rate – We know that some students may have difficulty over time with the repayment of the loan. It is our goal to choose lenders who work hard for borrowers to ensure that their loans do not default. We are trying to choose lenders and services who provided excellent service during the repayment period of the loan.