Student Government Association (SGA)
The Voice of the Students!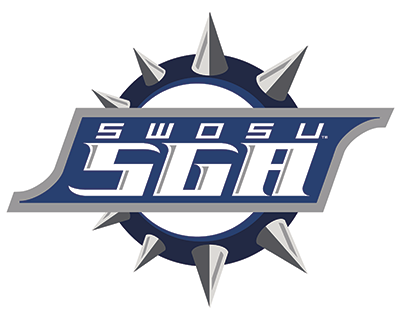 Since 1945, the Student Government Association (SGA) has served as the governing body of SWOSU students. Student fees fund the operations of the SGA, and student-elected officers oversee the expenditure of those funds. The three branches of the SGA (Executive, Legislative, and Judicial) work together to lead students by serving them. The SGA is the advocate for student interests, a powerful voice for change and progress, and a dedicated provider of student services and resources.
The SGA has accomplished many things on this campus, including advocating to make Martin Luther King, Jr. Day a university holiday, bringing paper recycling to this campus, making SWOSU tobacco free, and planning annual events such as Homecoming and SWOSUpalooza. The SGA is always looking for enthusiastic participants to advocate for the students of the university.
2020-2021 Executive Officers
Officers
| Office | Name | |
| --- | --- | --- |
| President | Natalie Kinder | |
| Vice President | Trey Gooch | |
| Treasurer | Riley Smith | |
Cabinet
| | | |
| --- | --- | --- |
| Office | Name | |
| Campus Improvements | Shania Do | |
| Civic Engagement | Jaycie Brown | |
| Diversity | Lisa Boye | |
| Executive Advisor | Jimmie Cope | |
| Parliamentarian | Lane Dobrovolny | |
| Public Relations | Brooke Bonny | |
| Special Projects | Connor Belknap | |
| Supreme Court Justice | Desmund Richey | |
What does SGA do?
SGA acts as the governing body for SWOSU students. Student senators bring thoughts and ideas to weekly senate meetings where they convene with their respective cabinets. Through legislation, campus improvements, special projects, and more, we strive to represent the student body well.
How do I join?
Filing to be a senator begins in August. Look for sign ups around campus or contact an officer or cabinet member to express your interest. Once you have registered, campaigning begins within your academic college (Associate & Applied Programs, Arts & Sciences, College of Professional & Graduate Studies, or Pharmacy).
What is the time commitment?
SGA senate meetings take place once a week, and they usually last anywhere from thirty minutes to one hour. Extra events such as Battle of the Bulldogs, Relay for Life, and volunteering at the Organization Fair will take time, but these events are not mandatory. The amount of time that you choose to commit to SGA will be up to you!
What campus improvements has SGA invested in?
Some recent changes to campus that SGA is responsible for include the hammock lounge on the Student Union lawn and the pergola constructed near the Stafford Building.
How can my voice be heard if I am not a senator?
SGA elected officers (President, Vice President, and Treasurer) have scheduled office hours. Please stop by our office on the north side of the Student Union; we would love to talk!
If an email or direct message is more comfortable for you, connect with us here:
Email: sga@swosu.edu
Instagram: @swosusga
Twitter: @swosusga
What events do we plan?
SGA is responsible for events such as SWOSUPalooza, Battle of the Bulldogs, and Homecoming. We partner with other organizations for events like our annual back-to-school Bingo Night, Relay for Life, and the Organization Fair.