Bulldog Wellness
Our Mission
SWOSU is committed to a campus culture that promotes wellness through healthy lifestyles and enhances the quality of life for our faculty, staff, and students.
The goal of SWOSU Bulldog Wellness is to encourage all members of the SWOSU community to lead and maintain a healthy lifestyle and to promote lifelong learning with access to the wellness activities and programs offered by the SWOSU campuses in Weatherford and Sayre.
Wellness is a lifelong pursuit and sometimes we all need a little encouragement. SWOSU Bulldog Wellness offers the assistance you need through programs, activities and resources that support the health and well-being of SWOSU faculty, staff and retirees.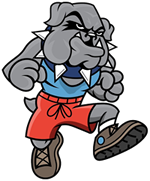 Bulldog Wellness includes:
Campus and health system wellness activities
Programs and support from SWOSU's benefits providers
An incentive program administered by Blue Cross and Blue Shield of Oklahoma, open to eligible faculty, staff, and retirees
Online or telephonic wellness coaching, also offered by Blue Cross and Blue Shield of Oklahoma
Managers and Supervisors
Workshops and Training
Disability Management
Human Resources Office - Disability Management provides consultative services to faculty and staff with respect to disability issues impacting work. We facilitate return-to-work initiatives and reasonable accommodation for faculty and staff who have or who may develop health issues that interfere with the ability to work.
We provide mandated disability consultation and services related to federal and state disability laws, University policies, and collective bargaining agreements.
We also coordinate the University's Workers' Compensation program and provide training on a variety of disability management topics. Services are confidential.
Employee Assistance
SWOSU Counseling Services - Employee Assistance provides free, confidential counseling and referral for SWOSU faculty and staff.
Please contact SWOSU Counseling to set up an appointment