Student Organizations
All recognized campus organizations are coordinated through the Dean of Students. Activity approval and annual update of officers/sponsors is facilitated by the Dean of Students. See a full listing of student organizations and a listing of student organization sponsors.
Collegiate Activities Board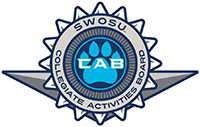 Get active by joining The Collegiate Activities Board (CAB). CAB is an institutionally-funded group of students who plan and organize the majority of events at Southwestern. Get connected and host fun events for your friends and campus!
CAB hosts Bulldog Blitz, tailgates for the football games, builds team spirit, and much more!
See more details at the CAB Student Organization website.
Interested in CAB?
Anyone interested in being a part of this great group of event planners call 580.774.7153 or Email for an application.
Greek Life
Experience SWOSU's Sororities or Fraternities during Rush week! Greek Life can be an excellent way to build connections, develop skills, and become a responsible member of the SWOSU Greek community.
Sororities
Sigma Phi LambdaSigma Sigma ChiZeta Phi
Fraternities
Phi Delta Theta Tau Kappa Epsilon
Club Sports
Club Sports must be a recognized campus organization and as such, report to the Dean of Students.
Club Sports will have a university sponsor travel with them to all away games.
Club Sports must have an approved travel plan on file with the Dean of Students prior to traveling to away games.
Club Sports may use the SWOSU name once they have been recognized by the Student Government Association and Student Services.
Waiver and release forms must be on file for all active members and updated as membership changes. A copy should be provided to the Dean of Students, as well as club sponsor who will travel with the team.
As with any recognized student organization, Club Sports participants must observe the Student Code of Conduct since they represent the campus.
Any violations of the drug or alcohol policy will result in suspension of a club; they may not request funding nor travel for the duration of the penalty.
All participants in Club Sports must be enrolled in at least six credit hours or more and be in good academic standing.
All clubs receiving recognition must wait one year before they are eligible to request funding from the Student Allocation Committee. Any student organization may, with approval of the Dean of Students, engage in fund raising or may accept donations from interested parties.
Sports Clubs are encouraged to purchase medical coverage before participating in the sports events. They are not covered under the university varsity medical plan.
The university will not be liable for injuries incurred during participation of Club Sports.