Center for Health and Well-being
We are a proud member of the JED Campus community, a signature program of The Jed Foundation (JED) designed to create positive, systemic change on university campuses. JED is a comprehensive approach to mental health promotion and suicide prevention for colleges and universities across the nation.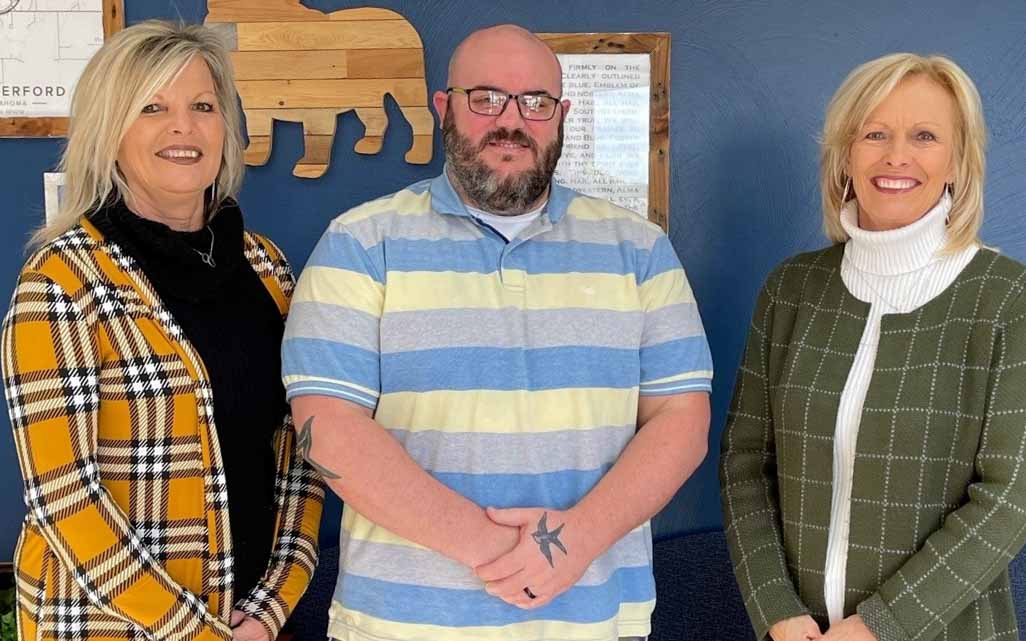 Hours
Monday - Friday
8 am - 12 pm
1 - 5 pm
while classes are in session
Location
Wellness Center - Go to the separate entrance to the right of the main entrance
Contact
580.774.3776
email
Stepped Care Model
The Stepped Care Model is referenced in the JED Playbook as a holistic approach that provides flexible access to wellness and mental health resources. We recognize that a student is flourishing when they are healthy in all aspects of their life. Stepped Care gives individuals the opportunity to step their care up, or step it down, depending on their health needs. It is an individualized approach.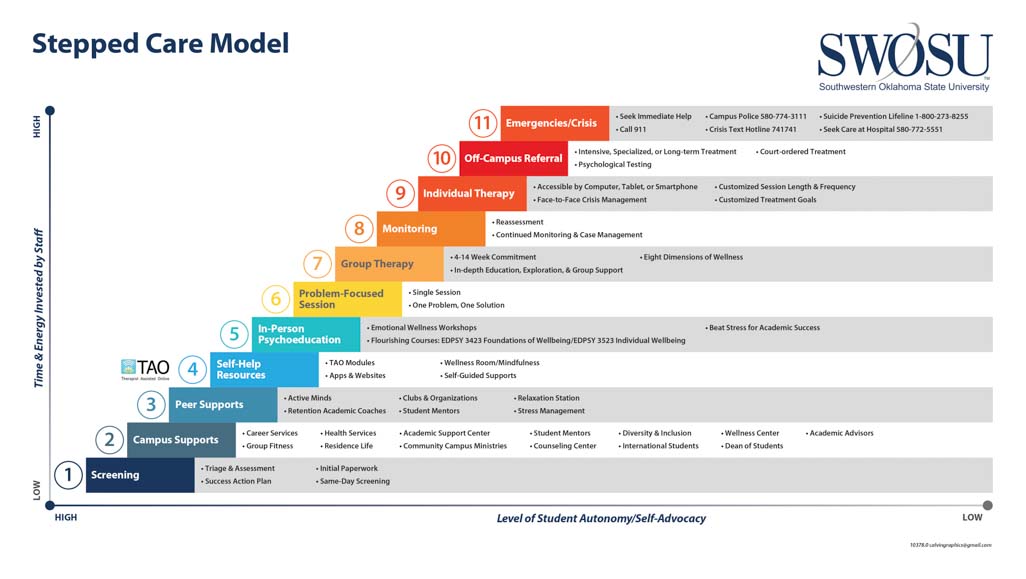 TAO Online Support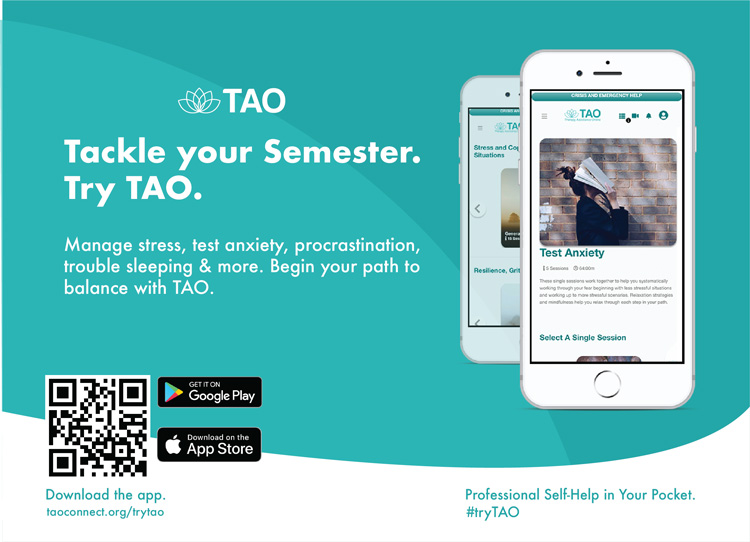 Therapy Assistance Online (TAO) provides 24/7 access to resources to help you feel your best emotionally. TAO contains videos, activity logs, and other tools that can be completed anytime and anywhere you have internet access.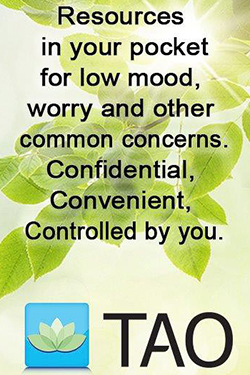 TAO is free to the campus community. TAO modules and tools are available as self-help tools, or can be assigned by a faculty/staff member. Alternatively, SWOSU counselors may assign TAO as a therapy tool in conjunction with personal sessions.
To enter TAO, click button at the right. Enter your SWOSU email address and log in using one of the following three methods:
TAO Self-Help: Exploring TAO on your own? Click the self-help button and follow instructions.
TAO Assigned: Assigned TAO content by an SWOSU faculty or staff member? Enter the enrollment key they provided to you.
TAO Therapy: Signed up by a counselor at Counseling & Wellness for TAO therapy sessions? Enter the password you received by email.
Once you've logged in, you will find a variety of resources to explore.
We hope that you find TAO to be a useful tool in your wellness journey!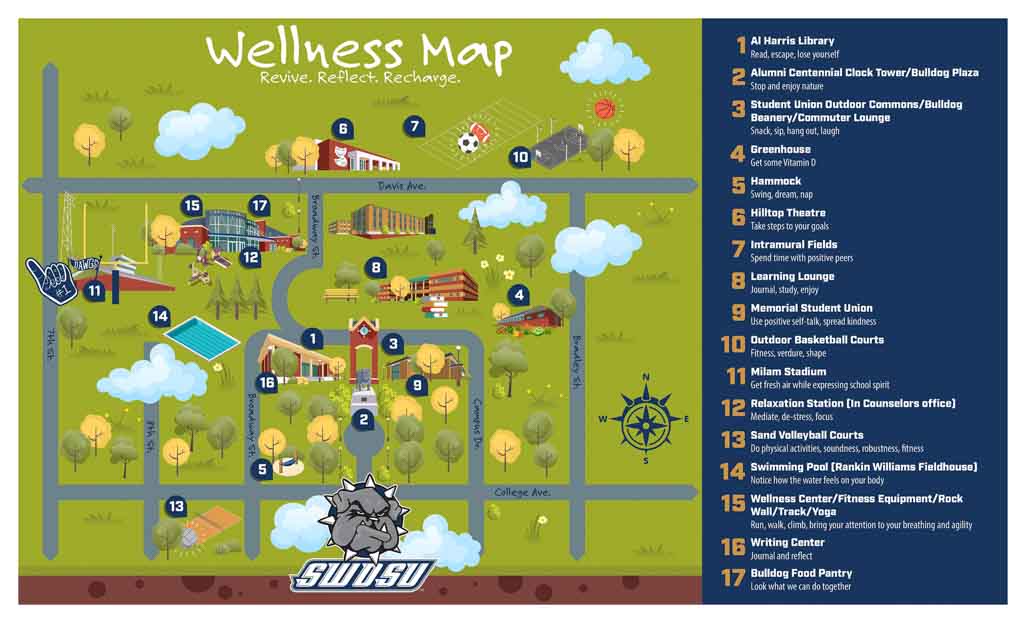 Health (Campus Nurse)
SWOSU collaborates with Weatherford Regional Hospital (WRH) in order to promote student health. As a component of this co-sourcing model, a WRH nurse maintains an office in the Center for Health and Well-being. Services include minor first aid, immunizations, pregnancy testing, and CLIA-waived testing including Strep, Influenza, and Urine Analysis. There is not a charge for SWOSU students to see the university nurse. A $10 copay is charged to a student's bursar account if a physician's appointment is scheduled through the university. Telemedicine options are available.
Immunization Information
Student vaccination records can be submitted online in various locations throughout the SWOSU website or in person at the Center for Health and Well-Being.
Vaccinations are required by all students to attend SWOSU in person or on-line.
Vaccinations required to attend are standard childhood immunizations and are for the safety of all students, staff, and instructors.
Vaccinations required are
Vaccinations required to live on campus (in dorms)
Meningitis (MCV4)

MCV4 vaccines need to be updated every 5 years as they expire.
If entering Health majors (Pharmacy, Nursing, PTA, Allied Health Sciences, etc.) the following may also be required
Hepatitis A X 2
Varicella X 2 OR positive blook titer
Yearly Flu vaccinations once admitted to the program
Yearly COVID vaccinations once admitted to the program.
Tuberculosis (TB) skin test, after being accepted, prior to beginning program.

QuantiFERON-TB Gold (QFT) is another option to test for Tuberculosis. This is a simple blood test that aids in the detection of Mycobacterium tuberculosis.

The QFT test would need to be ordered by a primary care provider.

If you have previously had a positive TB skin test then you will need to submit proper medical records and documentation, please speak with your program for further guidance on requirements.
All the above vaccinations and information on the vaccines are available at the Center for Health and Well-Being. for more information, go to the CDC's Vaccines and Preventable Diseases page.
You can also email the Center for Health and Well-Being nurse or call 580-774-3776.