Center for Health and Well-being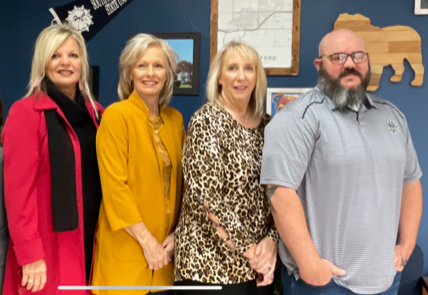 We are a proud member of the JED Campus community, a signature program of The Jed Foundation (JED) designed to create positive, systemic change on university campuses. JED is a comprehensive approach to mental health promotion and suicide prevention for colleges and universities across the nation.
Hours

Monday - Friday
(class hours)

8a - 12p
1p - 5p

Location

Wellness Center
Do not use the main entrance to the Wellness Center. Instead use the entrance to the right of the main entrance.
Stepped Care Model
The Stepped Care Model is referenced in the JED Playbook as a holistic approach that provides flexible access to wellness and mental health resources. We recognize that a student is flourishing when they are healthy in all aspects of their life. Stepped Care gives individuals the opportunity to step their care up, or step it down, depending on their health needs. It is an individualized approach.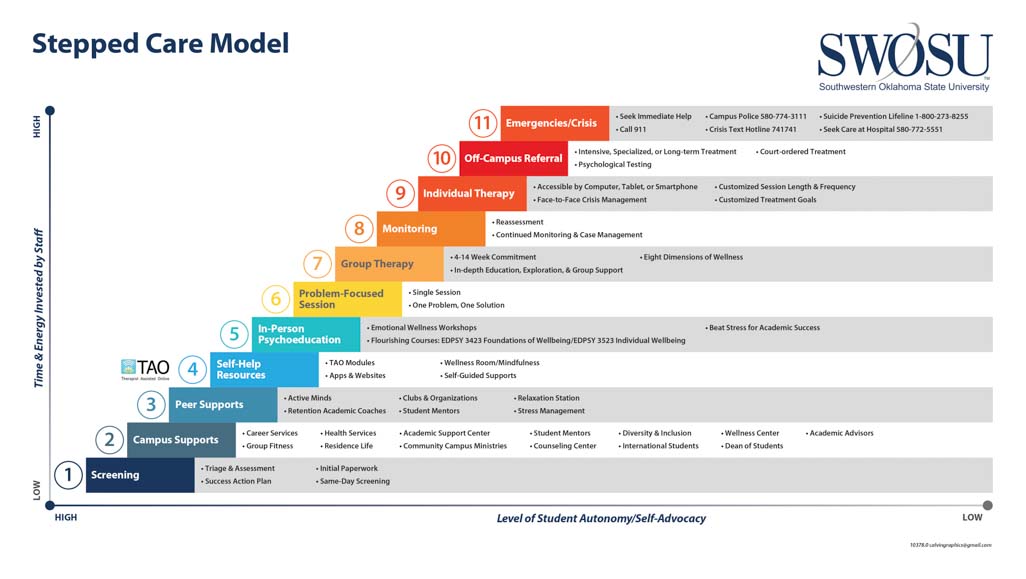 TAO Online Support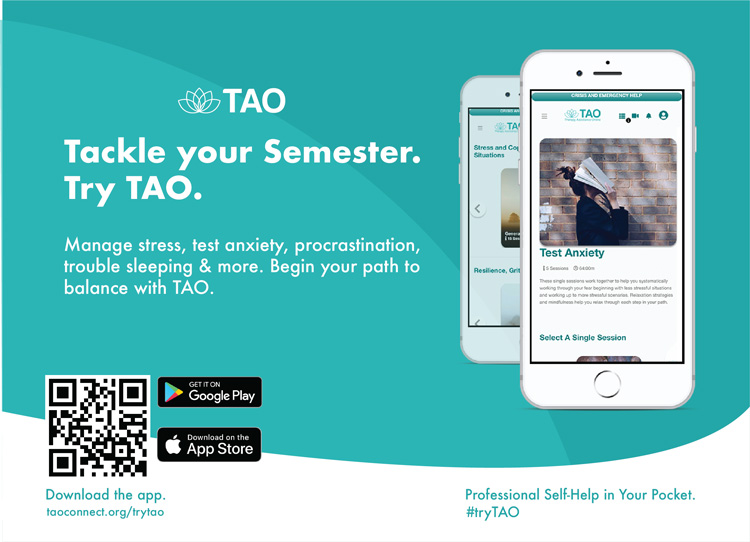 Therapy Assistance Online (TAO) provides 24/7 access to resources to help you feel your best emotionally. TAO contains videos, activity logs, and other tools that can be completed anytime and anywhere you have internet access.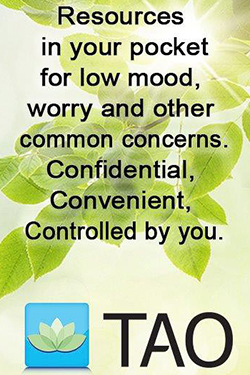 TAO is free to the campus community. TAO modules and tools are available as self-help tools, or can be assigned by a faculty/staff member. Alternatively, SWOSU counselors may assign TAO as a therapy tool in conjunction with personal sessions.
To enter TAO, click button at the right. Enter your SWOSU email address and log in using one of the following three methods:
TAO Self-Help: Exploring TAO on your own? Click the self-help button and follow instructions.
TAO Assigned: Assigned TAO content by an SWOSU faculty or staff member? Enter the enrollment key they provided to you.
TAO Therapy: Signed up by a counselor at Counseling & Wellness for TAO therapy sessions? Enter the password you received by email.
Once you've logged in, you will find a variety of resources to explore.
We hope that you find TAO to be a useful tool in your wellness journey!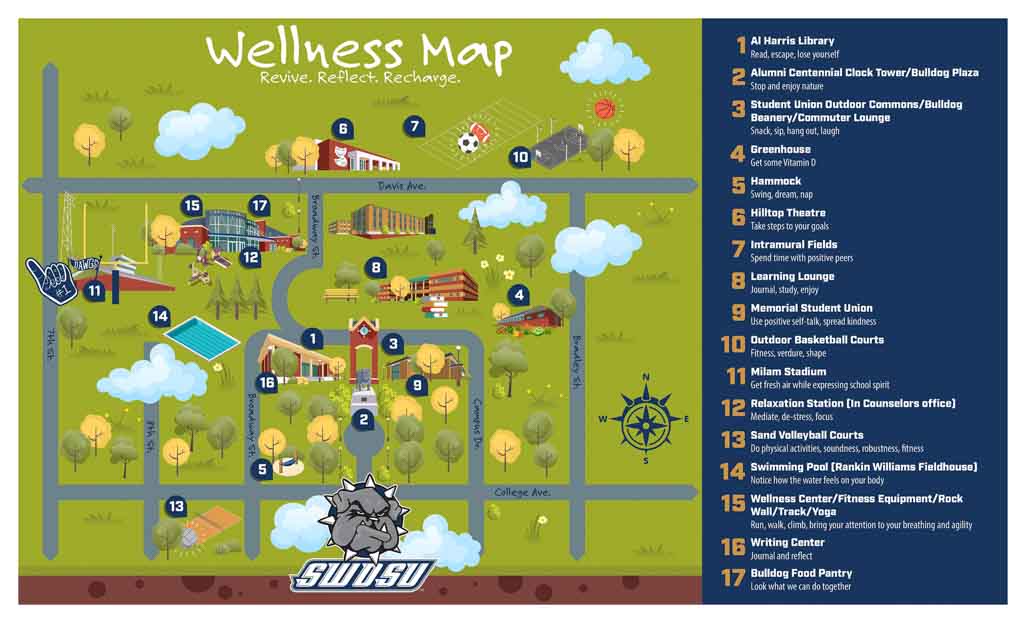 Health & Wellness
SWOSU promotes student health through a co-sourcing model partnering with Weatherford Regional Hospital. As a result, a WRH nurse is officed in the Center for Health and Well-being. Services include minor first aid, immunizations, pregnancy testing and CLIA-waived testing, including Strep, Influenza and Urine Analysis. There is no charge for SWOSU students to see the university nurse. If a physician's appointment is scheduled through the university, a $10 copay is charged to a student's bursar account. Telemedicine options are available.
SWOSU nurse oversees all student immunization/vaccination requirements. If you have questions to the following Vaccination Policy, email or call the nurse at 580.774.3776.
Nursing Immunizationand CPR RequirementsCollege of Pharmacy
Health Form
Student Vaccination Policy
A shot record must be submitted from out-of-state students living in one of the SWOSU Residence Halls.
Oklahoma State law requires proof of 2 doses of MMR (measles, mumps, rubella) and evidence of completion of a Hepatitis B series or a signed certificate of exemption. Medical, religious, and personal exemptions are allowed by law, and such requests must be made in writing using the appropriate WAIVER.
Possible Exemptions
Students who graduated from an accredited high school and who are presumed to have met the legal requirements where such vaccinations are mandatory by law.
Students from states with similar statutory requirements for providing written documentation of vaccinations.
Students transferring from another Oklahoma college or university after Fall 2004.
Students enrolled in courses delivered via the Internet or distance learning.
Students living off campus and one or more of the above exemptions apply.
Information About Vaccine-preventable Diseases
Measles/Mumps/Rubella (MMR)
All full- or part-time students are required: Two doses of MMR are required for all students born after 1956. A measles titer showing immunity may be substituted for the vaccination.
Hepatitis B
Hepatitis B is a severe viral infection of the liver that can cause acute or chronic illness and even death. Each year 200,000 people, primarily young adults, get infected with hepatitis B. Hepatitis B virus is spread through contact with the blood and body fluids of an infected person. The hepatitis B vaccination consists of three injections given over a six-month schedule and can prevent hepatitis B.
Meningococcal
Recommended by ACHA, CDC, and AAP. Meningococcal disease is a severe illness caused by bacteria. Meningitis is an infection of the brain and spinal cord coverings. Meningococcal disease can also cause blood infections. About 2,600 people get meningococcal disease each year in the U.S. Despite antibiotic treatment, 10-15% die. Of those who live, another 10% lose their arms or legs, become deaf, have problems with their nervous system, become mentally retarded, or suffer seizures or strokes. College freshmen, particularly those who live in residence halls, have an increased risk of getting meningococcal disease. Meningococcal vaccination can prevent two or three critical types of meningococcal disease in older children and adults. Vaccination against meningococcal consists of one injection.
Meningitis Immunization
Oklahoma Statute, Title §70-3243, requires that all students who are first-time enrollees in any public or private postsecondary education institution in Oklahoma and who reside in on-campus student housing be vaccinated against meningococcal disease UNLESS 1. The student signs a waiver that they have received and reviewed the information provided by Southwestern Oklahoma State University and has chosen not to be vaccinated against meningococcal disease or 2. In the case of a minor, the individual's parent or guardian signs the written waiver.
Tuberculosis Testing Policy
Tuberculosis (TB) is a disease spread from person to person through the air. About eight million new cases occur each year in the world. TB testing aims to identify individuals with TB infection and TB disease. SWOSU complies with the American College Health Association guidelines for tuberculosis screening.
If Any of these statements are TRUE, you must get the TB skin test. If they are FALSE to these statements, you are not required to receive the TB skin test.
I have health or medical conditions that suppress my immune system.
I have been exposed to someone with active tuberculosis disease.
I currently hold a visa from U.S. Immigration Services.
I am a U.S. citizen who previously resided outside of the U.S.
Screening Guidelines
TB testing should be done within six months or immediately upon entrance to SWOSU.
The Mantoux test is the only acceptable tuberculin skin test. Only U.S. test results will be accepted.
A history of BCG vaccination does not exempt you from the testing requirements.
Persons with a positive test should submit medical records showing chest X-ray results, treatment, and outcome.