Center for Health and Well-being
About Us
CHW nurtures a campus culture of resilience based upon the SWOSU's value of respect, by fostering a safe, healthy, and diverse intellectual, cultural, and social environment that encourages emotional well-being.
We are a proud member of the JED Campus community, a signature program of The Jed Foundation (JED) designed to create positive, systemic change on university campuses. JED is a comprehensive approach to mental health promotion and suicide prevention for colleges and universities across the nation.
Stepped Care Model
The Stepped Care Model is referenced in the JED Playbook as a holistic approach that provides flexible access to wellness and mental health resources. We recognize that a student is flourishing when they are healthy in all aspects of their life. Stepped Care gives individuals the opportunity to step their care up, or step it down, depending on their health needs. It is an individualized approach.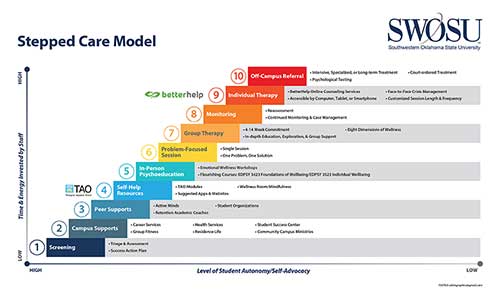 TAO Online Support
Therapy Assistance Online (TAO) provides 24/7 access to resources to help you feel your best emotionally. TAO contains videos, activity logs, and other tools that can be completed anytime and anywhere you have internet access.
TAO is free to the campus community. TAO modules and tools are available as self-help tools, or can be assigned by a faculty/staff member. Alternatively, SWOSU counselors may assign TAO as a therapy tool in conjunction with personal sessions.
To enter TAO, click linked image at the right.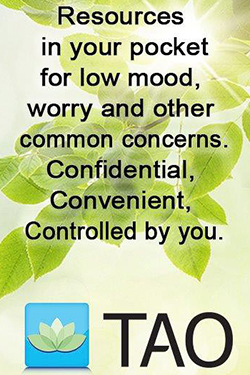 Enter your SWOSU email address and log in using one of the following three methods:
TAO Self-Help: Exploring TAO on your own? Click the self-help button and follow instructions.
TAO Assigned: Assigned TAO content by an SWOSU faculty or staff member? Enter the enrollment key they provided to you.
TAO Therapy: Signed up by a counselor at Counseling & Wellness for TAO therapy sessions? Enter the password you received by email.
Once you've logged in, you will find a variety of resources to explore – videos, mindfulness guides, and activity logs. We hope that you find TAO to be a useful tool in your wellness journey!
Hours, Location & Contact Information
Hours
Monday - Friday
8 a.m. - 12 p.m. & 1 - 5 p.m.
while classes are in session
Location
Wellness Center
Separate entrance to the right of the main entrance
Contact Information
Phone: 580.774.3776
Health
Services Offered
Services provided include but are not limited to:
Physical assessment with referral to local physician if condition warrants
Education for prevention of disease and self-care techniques
Immunizations
TB skin testing
Pregnancy testing
Blood Glucose testing
Allergy injections
CLIA-waived testing including Strep, Influenza, and Urine Analysis
Costs
There is not a charge to see the university nurse. A charge of $10 applies for a physician visit made with a local physician contracted with SWOSU. Immunizations received at Student Health Services are charged separately.
The cost for testing is as follows:
Strep - $5
Influenza - $15
Urine Analysis - $2
Pregnancy - $2
TB Skin Test - $5